Unlock Rewards and Empower Restaurants!
Are you passionate about the restaurant industry and eager to earn extra income?
Introducing the R365 Referral Program where you can earn up to $5,000 for providing potential restaurant customers that sign with Restaurant365, the industry's only all-in-one, integrated restaurant management solution. Leverage your network to earn extra cash, while building relationships with other restaurant professionals and helping them improve their operations.
1.

Refer a Restaurant to Us:

Anyone can participate! Simply complete the form to start the process.
2.

Share Potential Restaurant Customers and Build Your Network:

With our program, you can refer any US restaurant, regardless of size, to Restaurant365.
3.

Warm Introductions:

Provide R365 with a warm introduction to your contact. If they sign up and implement R365, you'll receive the referral spiff. Your referral spiff equals 80% of the customer's first month's Recurring Revenue (MRR)—up to $5,000!
4.

Monthly Spiff Payouts:

We believe in promptly rewarding our partners. Referral spiffs are paid within one month of signing, ensuring you receive your well-deserved compensation in a timely manner. For more details, refer to the information provided in your registration document.
Why refer
Restaurant365
?
Here's why our solutions are a perfect fit for restaurants of all sizes: 
R365 seamlessly integrates with your POS system to pull detailed ticket-level sales and labor data daily, automatically generating accurate journal entries.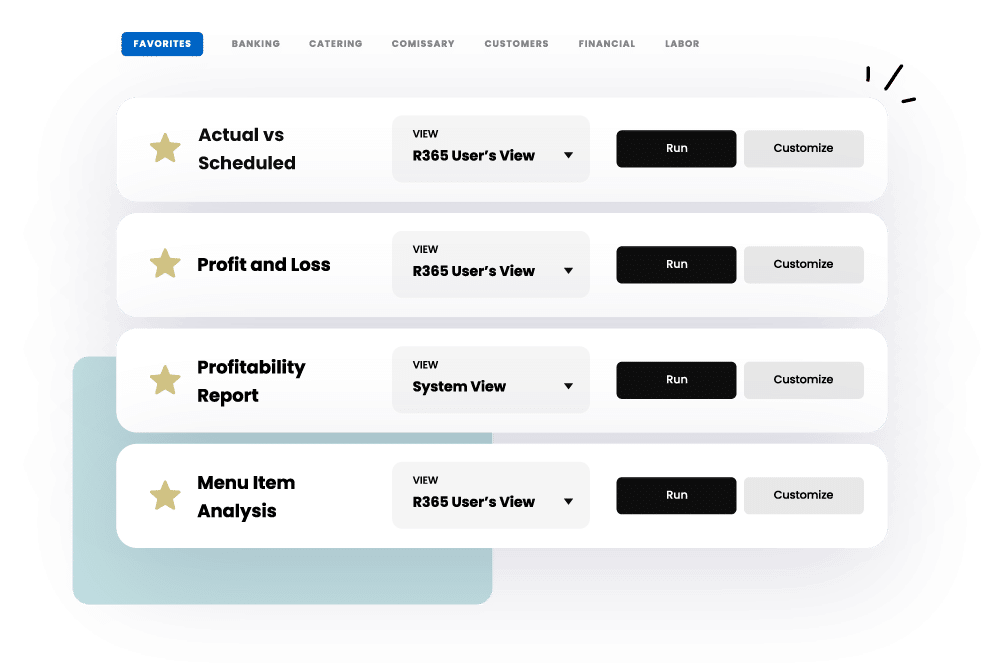 Restaurant-Specific Accounting
Empower managers with such features as cash management, digital invoice uploads, and the power to make informed decisions using a daily P&L.
Take control of your food cost and increase profitability with data-driven inventory management, labor optimization, scheduling, and payroll.
Business Intelligence Reporting
Use real-time data to enhance decision-making across your company with our comprehensive reporting and dashboard features.