Trusted by more than 40,000 restaurants, Restaurant365's cloud-based software brings together your accounting, store operations, and workforce to drive profit and growth.
Restaurant365 is the industry's leading all-in-one, cloud-based accounting, inventory, scheduling, payroll, and HR solution developed specifically for restaurants. The R365 platform simplifies day-to-day management for restaurant operators, allowing them to control food costs and optimize labor costs.
Integrations and open APIs enable Restaurant365 to connect with other systems including POS providers, vendors, and banks. The result is accurate, timely reporting that provides a clear and complete view of their businesses. Restaurant365 allows operators to focus on what matters — their guests.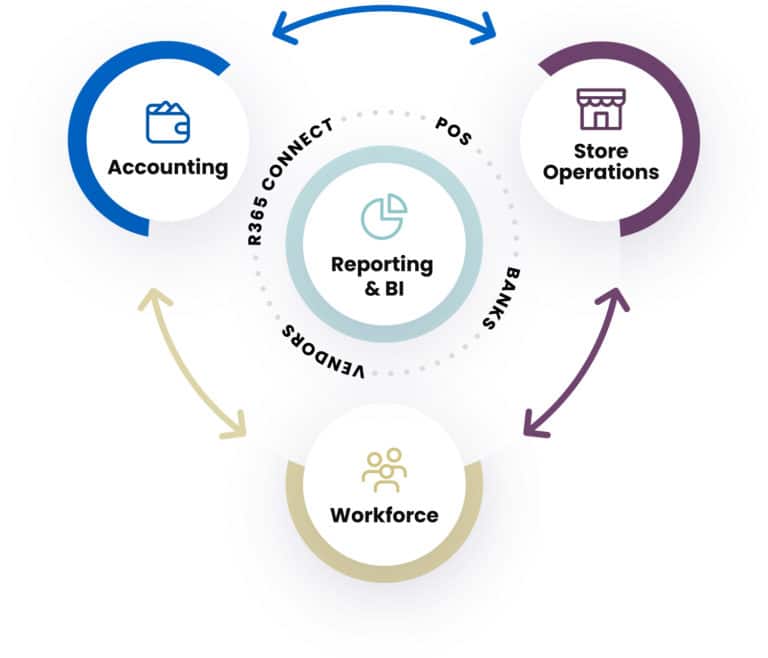 What are R365's products?
R365 Accounting is the industry leading restaurant accounting software, helping improve margins and scale without adding overhead thanks to frictionless POS integration, a direct general ledger connection, accounts payable automation, and real-time reporting.
AP Automation – Modernize your entire accounts payable process from invoice capture to approval workflows with cost-effective payment options.
Modern Banking – Direct integration with your bank lets you see and manage all financial transactions in real-time with a single click.
Fixed Assets – Track the lifetime costs of all your fixed assets, from real property and technology to kitchen equipment, furniture, and more.
Budgeting and Forecasting – Drive your restaurant group toward its full potential with the ability to budget for multiple locations simultaneously.
Financial Reporting – Visualize your restaurant group's financial health with out-of-the-box or custom reports at the frequency and detail you need to make data-driven decisions.
With R365 Store Operations, your back office seamlessly connects to the front-of-house to drive margins with real-time restaurant inventory management, automated purchasing, forecasting, food costing controls, data-driven scheduling, and seamless shift-to-shift communication.
Inventory – Simplify inventory counting, easily transfer inventory, and break down menu item costs to spot and take action on problems or opportunities.
Purchasing & Receiving – Save on Cost of Goods Sold and increase efficiency by automating your purchasing and receiving processes.
Forecasting – Confidently predict your labor and inventory needs, whether it's Super Bowl Sunday or a quiet Monday.
Commissary – Commissary ensures consistent food production and uniform use of ingredients across your restaurant locations.
Recipes – Gain control of your kitchen operations, sales, and bottom line with recipes that specify how much of each ingredient should be in each dish.
Logbook – Keep your teams in sync on daily activities, customer issues, maintenance problems, and more.
Scheduling – Create schedules faster and optimize labor costs across multiple locations by predicting needs based on historical sales.
With R365 Workforce, improve productivity and modernize the employee lifecycle. Our restaurant workforce management software delivers industry leading hiring, onboarding, scheduling, payroll, and benefits tools.
Hiring
Hiring – Centralize job postings, applicant reviews, interview schedules, candidate tracking, and communication with a single solution.
Onboarding – Ensure a smooth onboarding process with an automated, error-free experience that quickly makes new employees productive team members.
Payroll – Avoid manual busy work and repetitive tasks with a restaurant-specific payroll solution that calculates, audits, and processes payroll accurately and in less time.
Scheduling – Promote workforce autonomy by giving your employees an app that makes it easy to swap shifts and request changes.
Human Resources – HR tools and workflows empower lean operators to run a compliant, efficient, and scalable operation.
Benefits Administration – First impressions last. Provide an easy enrollment process for existing and new employees.
R365 Reporting & Business Intelligence
Get accurate, timely data that's easy to find and share. See what's working, what's not, and what's happening unexpectedly in real-time with out-ofthe-box and custom reports to drive improvement, growth, and expansion.
Real-Time Reporting – R365 enables real-time sales and labor reporting and analytics giving stakeholders up-to-date data to make decisions.
Financial Dashboards – Access all your business intelligence — financials, sales numbers, labor, and food costs — in R365.
Actual vs. Theoretical – Track the difference between what you spent on food and labor and what you should have spent during the same period.
Prime Cost Report – See how combined food and labor cost at all your restaurant locations factors into overall sales to boost your margins.
One easy-to-use system so your entire organization gets better information with less effort.
Daily P&L for your managers to make timely, cost-slashing decisions that grow your bottom line.
Fully connected to your pos to save tons of time on manual data transfers and improve accuracy.
Restaurant-specific features so you can get vital information faster without having to manipulate data.
Save time spend more time making sure employees are happy and providing an excellent customer experience by spending less time on repetitive manual tasks.
Reduce food & labor costs give managers the visibility they need to control food and labor cost like the very best while saving money by investing in one system instead of many.
Grow faster grow your bottom line by reducing costs and easily expand your business with a highly scalable back-office system.
As a restaurant operator, you can help your teams save time, minimize errors and better work together by discovering and implementing the systems that will help them get on the same page. Restaurant365 is a fully integrated, restaurant-specific solution for accounting – including AP automation — plus inventory management, scheduling and more. The cloud-based platform connects to your Point-of-Sale system, as well as to your food and beverage vendors, payroll vendor and your bank for automated bank reconciliation.