Master Restaurant Management with a Single Platform
With R365 Store Operations, your back office seamlessly connects to the front-of-house to drive margins with real-time inventory, automated purchasing, forecasting, recipes, data-driven scheduling, and seamless shift-to-shift communication.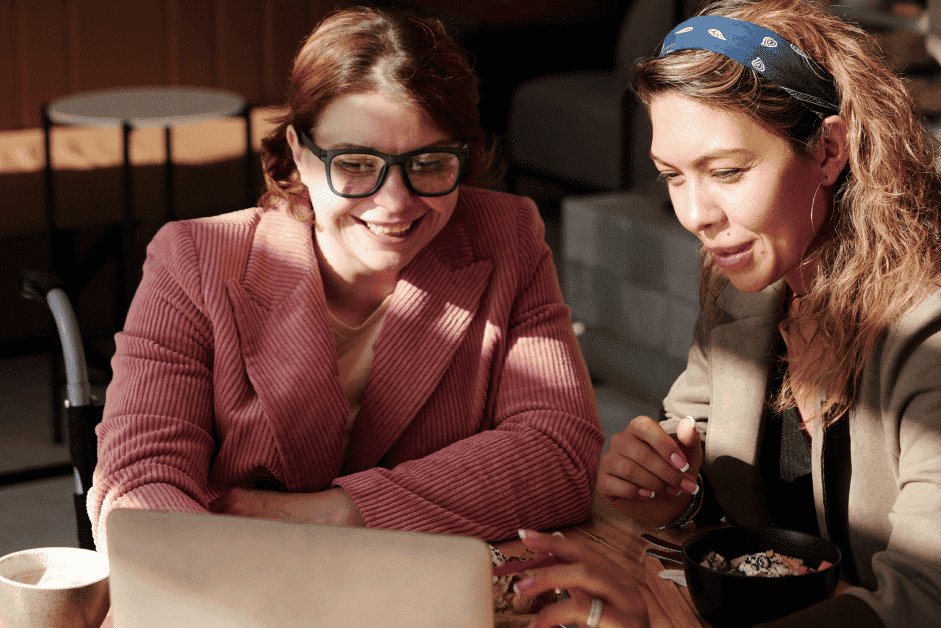 Automate Inventory to Control Costs
Simplify inventory counting, easily transfer inventory, and break down menu item costs to spot and take action on problems or opportunities.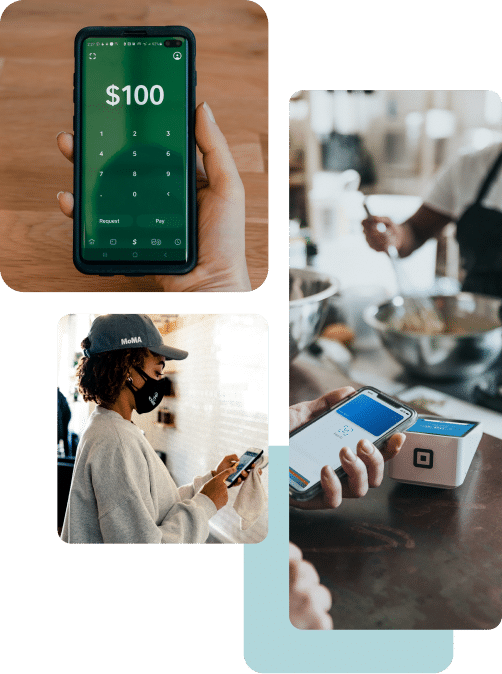 Perfect Purchasing and Receiving
Save on Cost of Goods Sold and increase efficiency by automating your purchasing and receiving processes.
Confidently predict your labor and inventory needs, whether it's Super Bowl Sunday or a quiet Monday.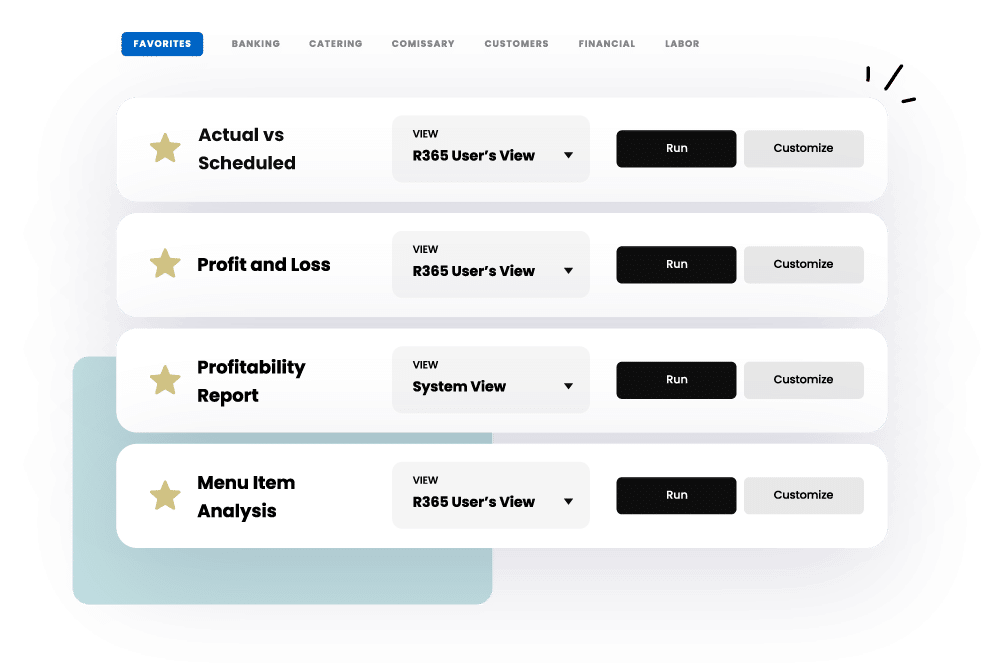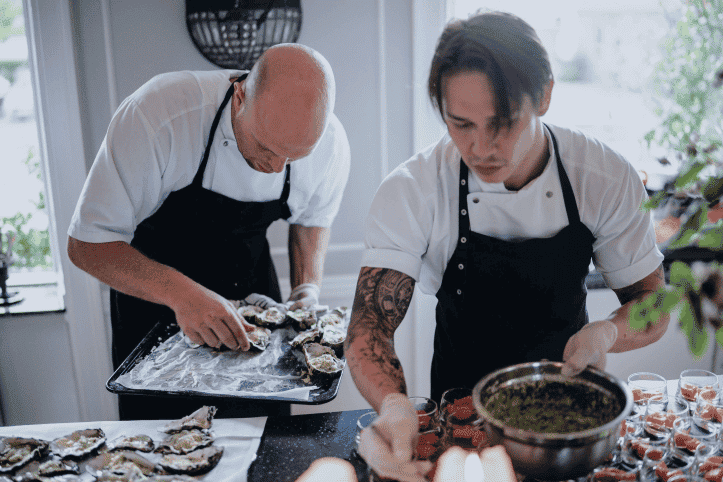 Take Control of Your Commissary
Commissary ensures consistent food production and uniform use of ingredients across your restaurant locations.
Gain control of your kitchen operations, sales, and bottom line with recipes that specify how much of each ingredient should be in each dish.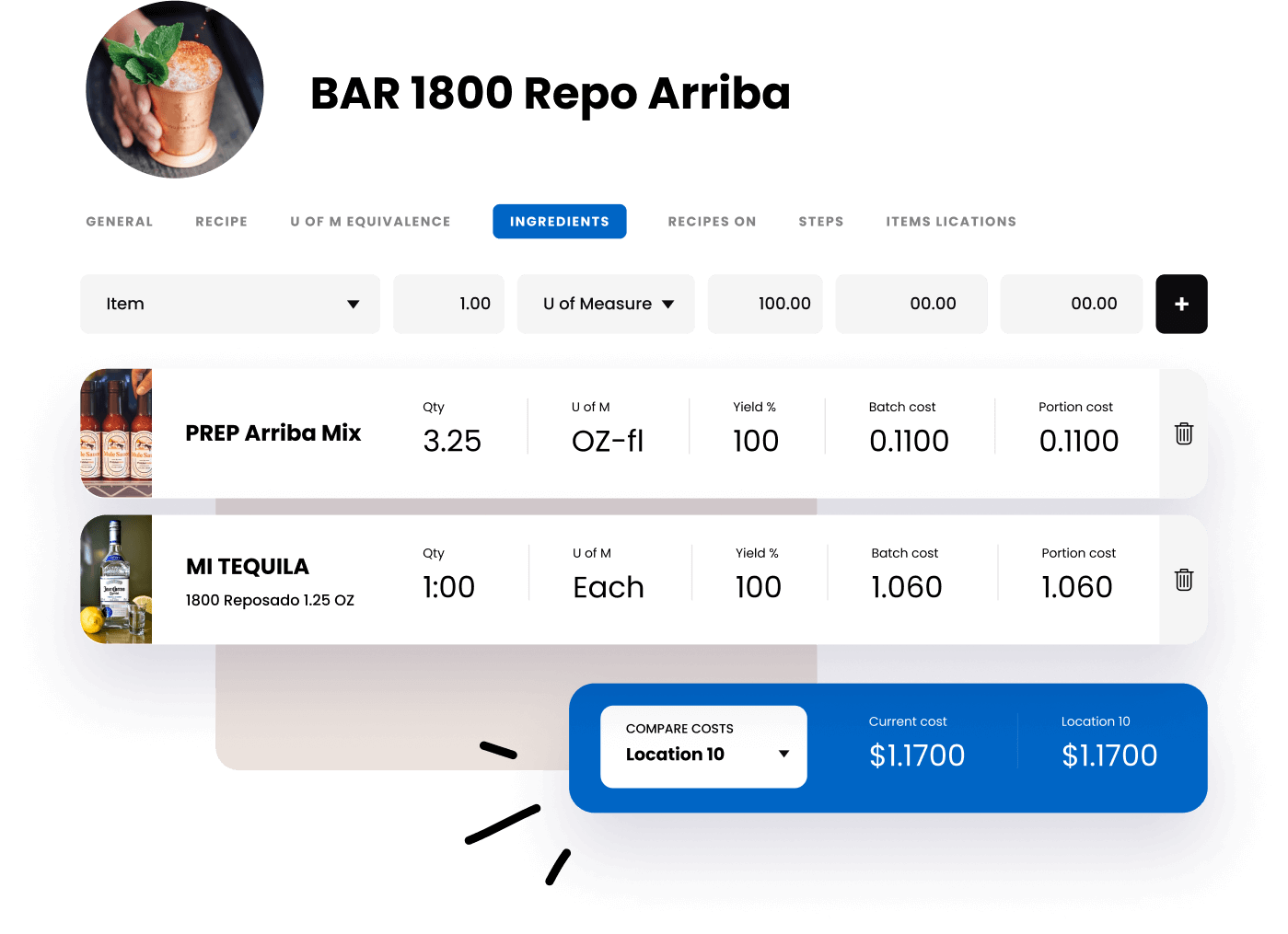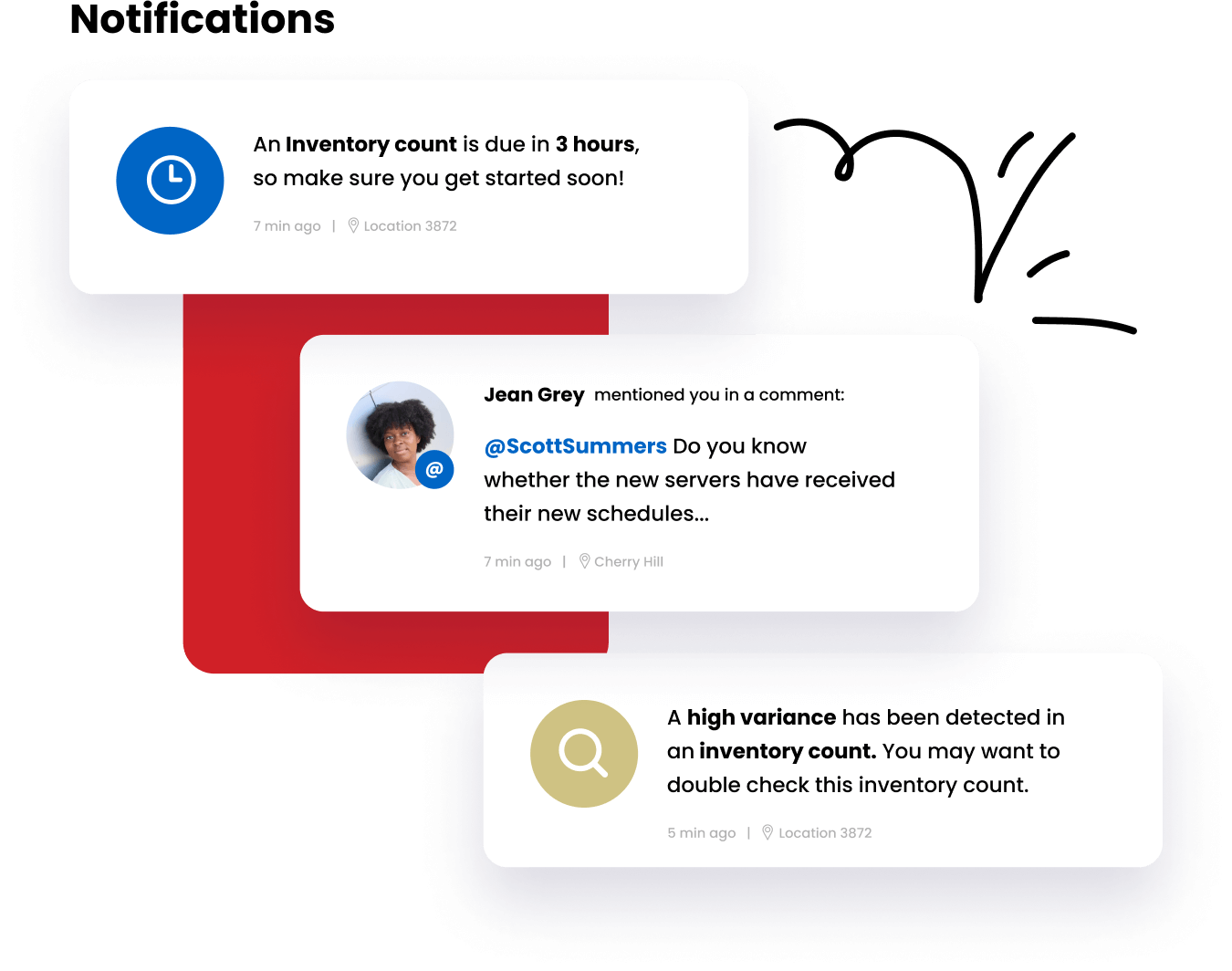 Keep your teams in sync on daily activities, customer issues, maintenance problems, and more.
Create schedules faster and optimize labor costs across multiple locations by predicting needs based on historical sales.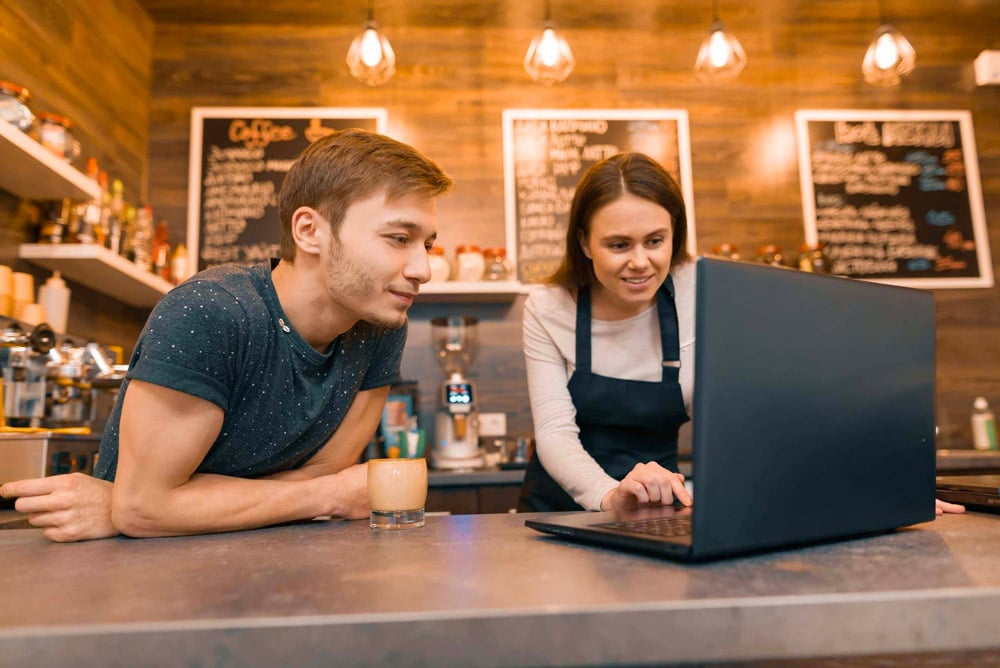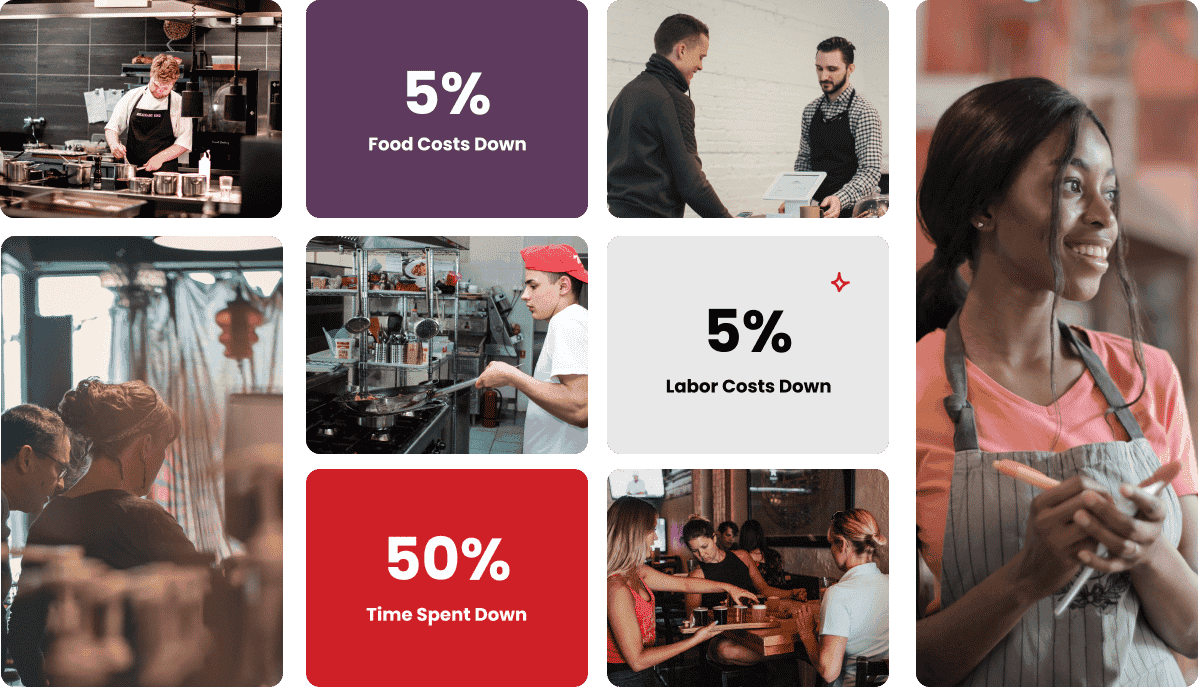 Restaurant Management System
Restaurant businesses juggle various tasks throughout each day. While many restaurant teams want to prioritize guests, the manual tasks involved in maintaining a restaurant are challenging and time-consuming. Restaurant owners have to manage invoices, store operations, customers, and a large team of employees to ensure everything runs smoothly. Because of this, there is a significant risk of manual errors that would inhibit the restaurant's overall growth. Therefore, restaurant businesses will find considerable advantages when implementing a restaurant management system like Restaurant365.
If you have never heard of restaurant management systems, you are not alone. Many restaurant owners are unaware of the benefits of restaurant management system software. For this reason, it is essential to seek a restaurant management system introduction to gain valuable knowledge about navigating this type of software. Among the various objectives of restaurant management system software are:
Integration with your POS, banks, vendors, and other suppliers

Accurate accounting with detailed sales and labor data
Automatic daily sales and accrual journal entries

More time to prioritize customers and optimize performance

Elimination of manual errors

Up-to-date information about employee performance

Tracking for inventory, labor, and scheduling purposes

Streamlined administrative work
These are only some of the various restaurant management system features found on Restaurant365's platform. Restaurant365 is a cloud-based platform and one of the most advanced restaurant management system example solutions available to restaurant owners. Restaurant365 is vital for accounting and operations solutions within a restaurant, and the software allows restaurant businesses to manage their back office productivity from a single system. A high-quality restaurant management system project database design such as Restaurant365 can help you streamline your work tasks through seamless integration with POS, payroll, banking, vendors, and more. Ultimately, Restaurant365's cloud-based platform makes it easier for you to improve visibility and control to boost your bottom line. If you are concerned about the limitations of restaurant management system capabilities, then it is important to find high-quality platforms that do not have these limitations.
Unlike some other systems you may come across in your search for restaurant management software, Restaurant365 offers an all-in-one accounting, store operations, and workforce solution for restaurants. Restaurant365 has features with accounting, store operations, workforce management, as well as reporting and business intelligence, among many other functions. The team of restaurant business experts at Restaurant365 will provide your business with the most valuable tools for your restaurant, boosting performance and customer satisfaction.
Restaurant Table Management Software
The most important part of any successful restaurant business is keeping the customers happy and the employees efficient and focused. Providing excellent customer service within a restaurant means that you will need a deep understanding of managing tables in your restaurant. Manually managing tables can be confusing and result in poor performance. Given this, your restaurant should take advantage of an open-source restaurant management system with restaurant table management software.
A restaurant management system project like Restaurant365 is vital to fostering an efficient work environment at your restaurant. Restaurant365 offers tools for restaurant management system documentation, and these tools play a role in high-quality table management. When considering restaurant table management software, you should ensure that the software can help you streamline processes such as scheduling and turning tables. Additionally, your restaurant management software should provide key analytics and reports that offer valuable insights on how you can improve customer experiences and meet customer expectations.
Along with table management software, restaurant businesses will want to implement a system that improves store operations as a whole. Restaurant365's cloud-based platform provides easy access to restaurant management system documentation. Instead of manually managing documents that have key information regarding accounting and store operations, turning to a platform that collects accurate data like Restaurant365 is essential. With restaurant table management software specifically, your restaurant business will have the ability to view your floor plan and manage guests. Table management software helps you seat new guests and follow a comprehensive floor plan system to track tables, guests, and staff.
Restaurant365's table features help you and your team create positive restaurant experiences through an efficient management system that allows your staff to reach new heights in their performance and show their potential. Additionally, Restaurant365's software improves visibility, simplifies day-to-day operations, and lowers your inventory and labor costs.
Restaurant Management Software
All restaurant businesses can benefit from restaurant management software. Restaurant365 provides restaurants with numerous tools that help businesses manage daily operations. Restaurant365 offers restaurants some of the best restaurant management software available. Because the team at Restaurant365 is highly experienced in the restaurant industry, the tools provided by Restaurant365's platform are essential to have complete control over your business operations.
Restaurant365 offers restaurant management software for numerous purposes, primarily accounting, store operations, and workforce management. Restaurant365's restaurant management app makes it simple for you to manage your restaurant business from anywhere through the cloud-based platform. This is especially valuable for restaurant business owners managing various restaurants at a time from different locations. Through Restaurant365's app, restaurant business leaders have constant and secure access to performance-boosting features and sales data to determine any weaknesses in their business.
Restaurant365 is an essential option for restaurant management software. Open-source platforms are another way to ensure the best possible performance from you and your team, as they can be altered and perfected to fit the exact needs of your restaurant business. However, they lack the support and functionality of a comprehensive, enterprise-ready solution like Restaurant365. With Restaurant365's all-in-one management software and cloud-based platform, you can simplify your restaurant's daily operations and take control over back-office operations. Additionally, Restaurant365 is a valuable option for restaurant businesses seeking high-quality management software because it covers the essential aspects of running a restaurant business. Restaurant365 offers extensive resources for restaurant businesses and owners, providing you with key insights that can help you understand where you should focus your attention to shift your business strategies.
Ultimately, Restaurant365 is integral to gaining control over all your business operations. Having the ability to constantly access essential documents and data related to your restaurant business is crucial to ensuring high-quality performance and customer satisfaction. Restaurant365's management software is unique because it is the all-in-one stop for everything you need to successfully manage restaurants with an effective workforce solution.
Restaurant Software Systems
Successfully managing your restaurant business will require thorough research into a restaurant software system that offers features suited to your specific business. Though you might find different restaurant software systems on the market, not all are built the same. For instance, Restaurant365 is unique because its cloud-based platform offers unique, all-in-one solutions for accounting store operations and workforce management. As a restaurant management system website and mobile app, Restaurant365 is accessible anytime, no matter where you are. This is crucial for any issues your business faces when you are not present at the location.
Restaurant365 is valued by many restaurant owners because it streamlines daily activities through a comprehensive restaurant management system. Open-source platforms like Restaurant365 are unique to your business, with custom reports aimed at driving improvement, growth, and expansion. Restaurant businesses struggling to effectively manage all of the day-to-day operations of a restaurant team should seek out professional software like Restaurant365 to improve their operations, thereby improving customer experience and overall revenue. Restaurant365 does not come with any additional charge for POS integration and instead provides direct integration in numerous point-of-sale systems. These integrations include POS systems and an open-source food ordering system, along with various other assets used in your restaurant business. Furthermore, Restaurant365's partner ecosystem is a crucial aspect of its restaurant software system. Restaurant365 is bolstered by a robust partner ecosystem, and its software connects with over 400 vendor, technology, channel, and service partners. Restaurant365 is crucial to restaurant businesses looking to improve sales, control food costs, and optimize labor.
Restaurant Management System App
One of the primary advantages of using Restaurant365 to manage your restaurant business is the software's restaurant management system app. Restaurant365's software is crucial because it can be accessed from anywhere at any time. As one of the best free apps for restaurant managers, Restaurant365 holds a variety of purposes aimed at simplifying and streamlining your workflow. For instance, Restaurant365's restaurant task management app allows you to regularly view sales and labor data. Restaurant365's mobile app allows you to easily access your daily sales summary (DSS) when you are not present at a specific restaurant location.
Restaurant365 is the best restaurant management software for many reasons. Another key benefit of Restaurant365's app is the ability to view invoices at any time to continuously monitor accounts payable. Restaurant owners can approve or reject any accounts payable transactions with Restaurant365's restaurant management app. Android and Apple devices both offer free downloads of the Restaurant365 mobile app. Furthermore, Restaurant365's app makes it easy for you to manage your inventory wherever you are, making it possible to control your food and inventory costs and transfer food items between stores on the go. Restaurant365 is also accessible to restaurant businesses online without the app for owners that prefer using their desktop computers to manage in-restaurant tasks.
If you are seeking the top 10 restaurant management software options available to you, then you will want to keep in mind the vital features your restaurant business requires. As you continue learning about this type of software, consider the plentiful tools provided by Restaurant365's restaurant experts.
Accounting and Payroll Software | Accounts Payable Process | Best Inventory Management Software | Best Restaurant Management Software | Food Inventory Management | Inventory Management | Inventory Management Software | Inventory Tracking Software | Kitchen Operations | Kitchen Operations Checklist | Online Restaurant Management System | Restaurant Management | Restaurant Management System | Restaurant Software Systems | Restaurant Staffing | Restaurant Staffing App | Restaurant Staffing Guide | Workforce Payroll
R365 Customers Succeed with Restaurant-Specific Operations
The executive team and operations managers get a snapshot of the important things every day without having to hunt for them. Restaurant365 has been a game changer administratively. We can more easily see how we're doing versus how we thought we were doing. If we're not hitting our goals, we can get ahead of it faster.
Food Fight Restaurant Group
The ability to manage all operating metrics, like the prime costs of food and labor, will make it easier for us to provide benchmarking and support to our franchisees. They can see immediately how their results compare to other franchisees and the company performance.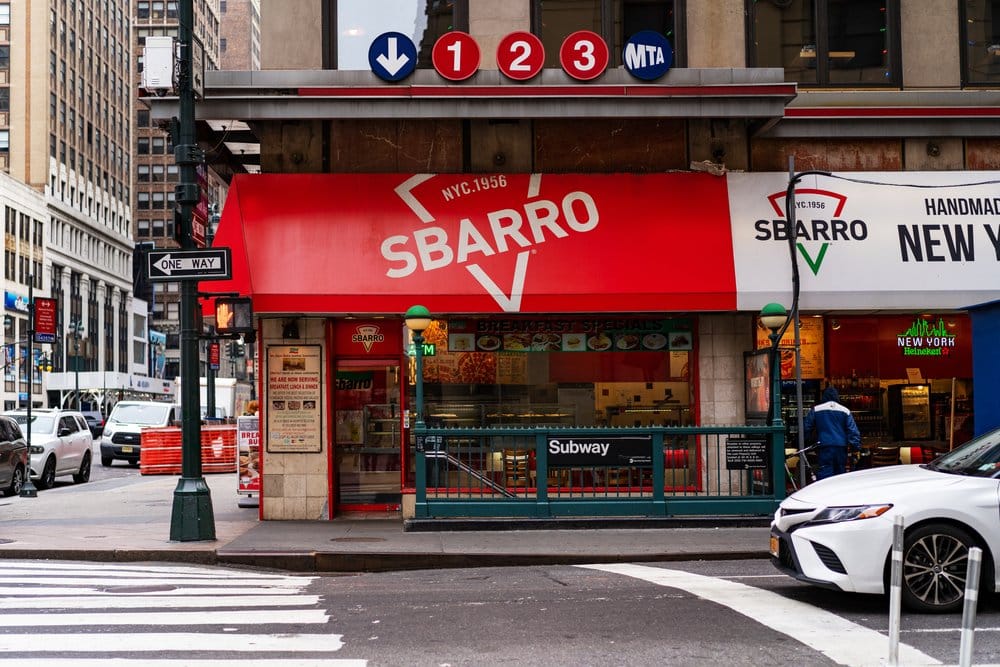 I've been in this business for forty years, and R365 changed the work I do for the better—more than any single thing I've ever done.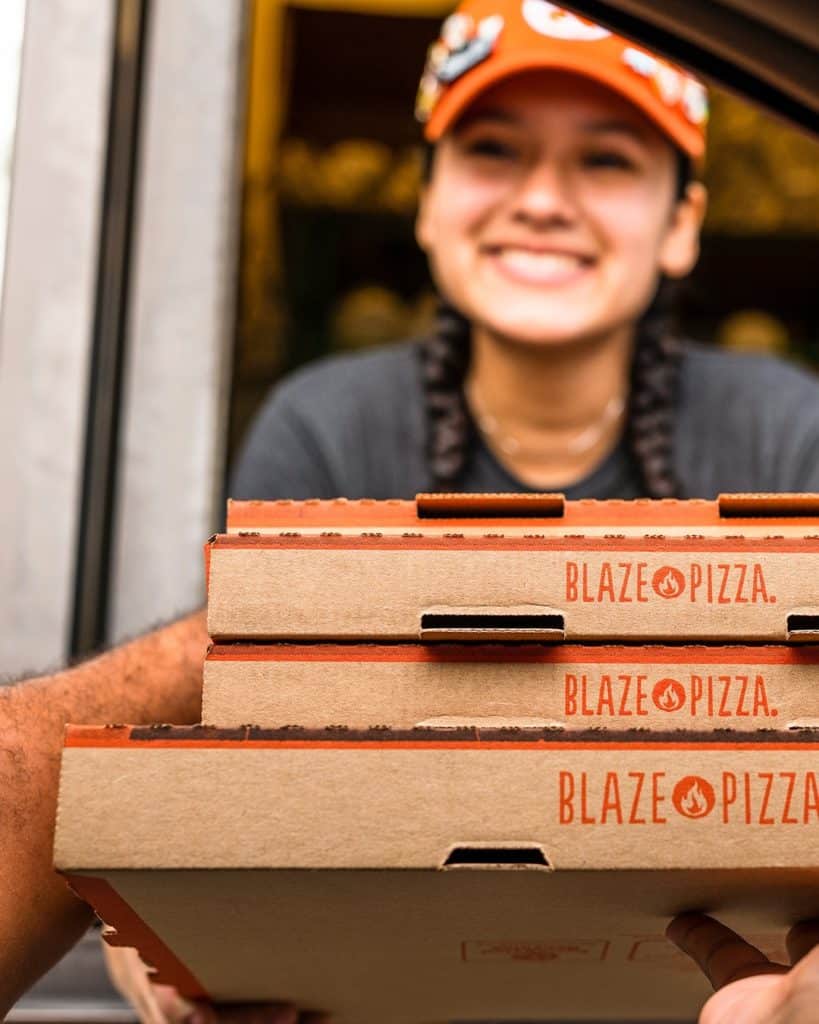 Boost Margins with a Restaurant-Specific, All-in-One Platform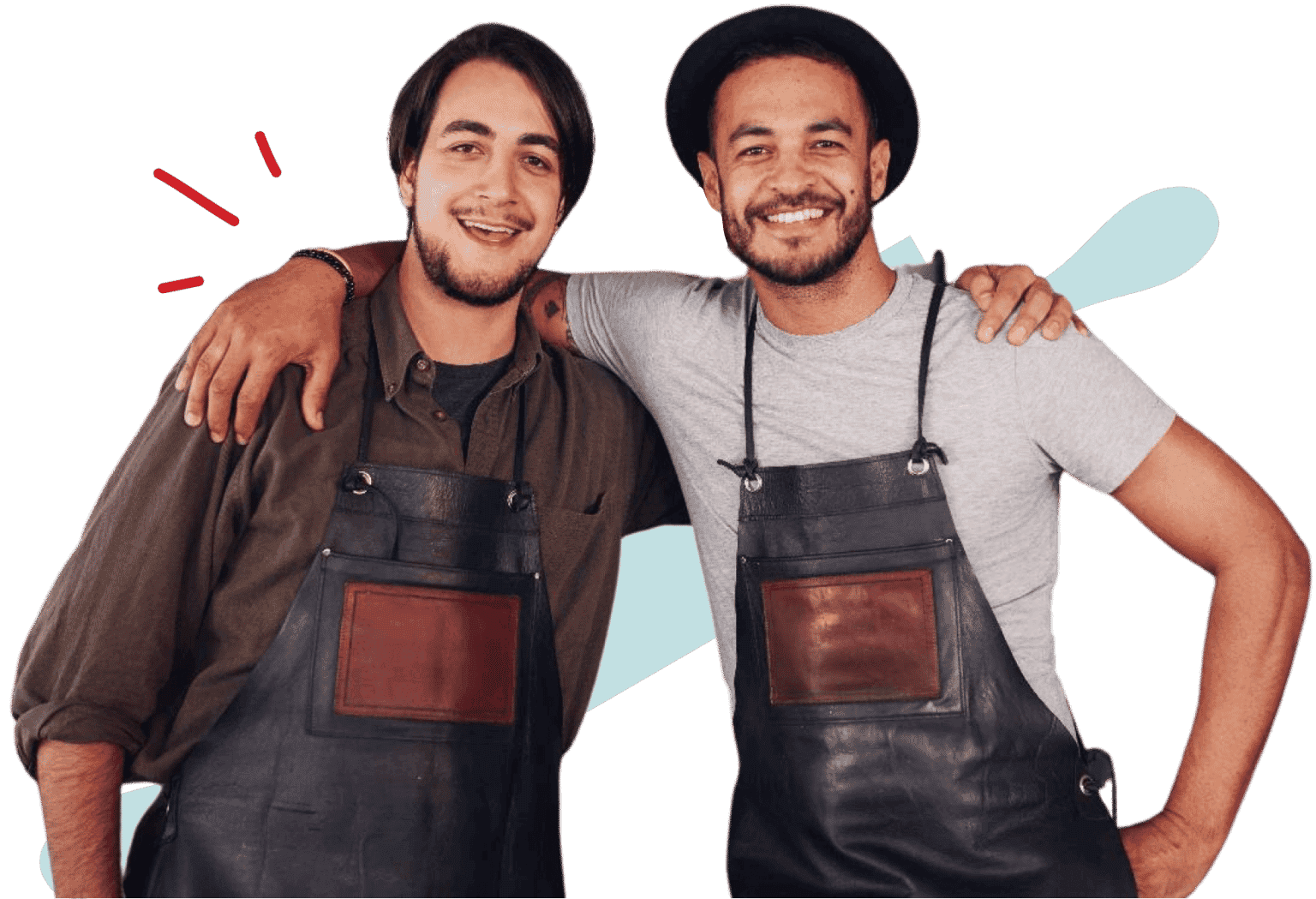 Looking Solely For Restaurant Operations Software?
We get it, you're on the market for store operations software and you'd like to stick with your current accounting and workforce platforms. No problem!
See How You Can Save Money with R365
Request a Demo of
R365 Store Operations
Learn how R365 Store Operations can help you master back-office operations.