Grow With a Cloud-Based Restaurant Management Platform
With R365 Store Operations, your back office seamlessly connects to the front-of-house to drive margins with real-time inventory, automated purchasing, forecasting, recipes, data-driven scheduling, and seamless shift-to-shift communication.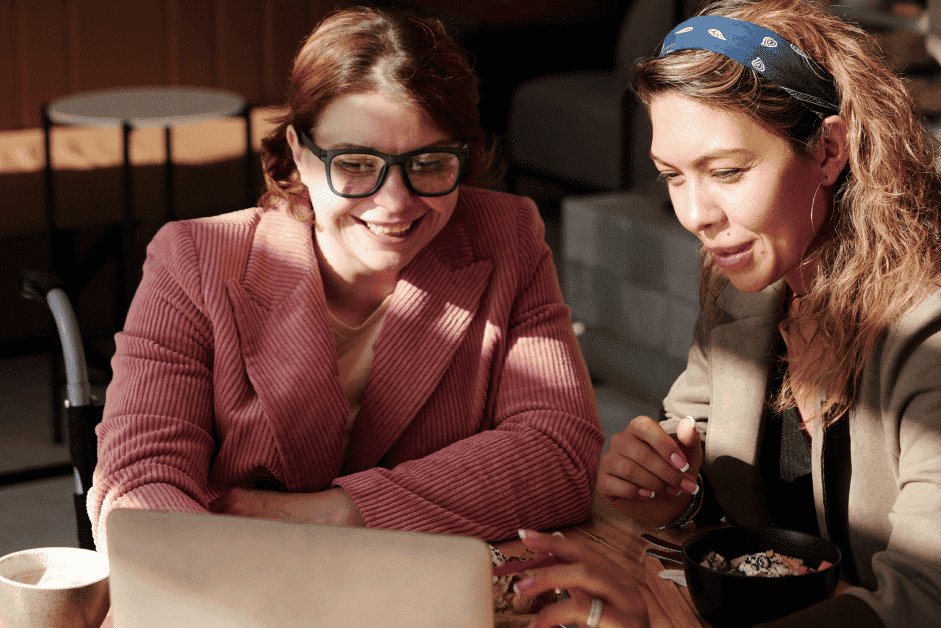 Automate Inventory to Control Costs
Simplify inventory counting, easily transfer inventory, and break down menu item costs to spot and take action on problems or opportunities.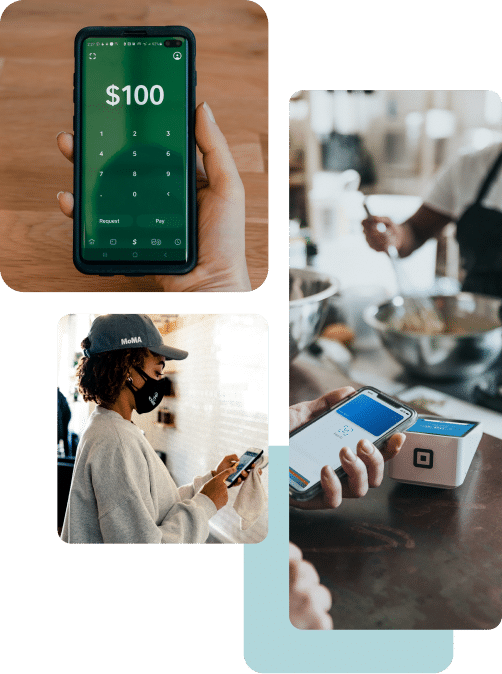 Perfect Purchasing and Receiving
Save on Cost of Goods Sold and increase efficiency by automating your purchasing and receiving processes.
Confidently predict your labor and inventory needs, whether it's Super Bowl Sunday or a quiet Monday.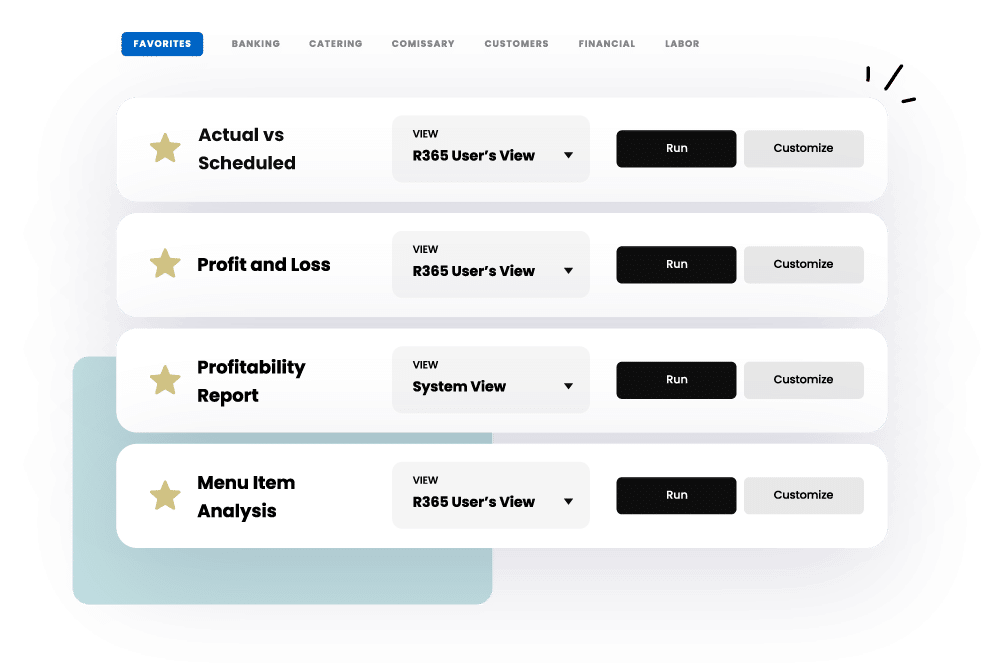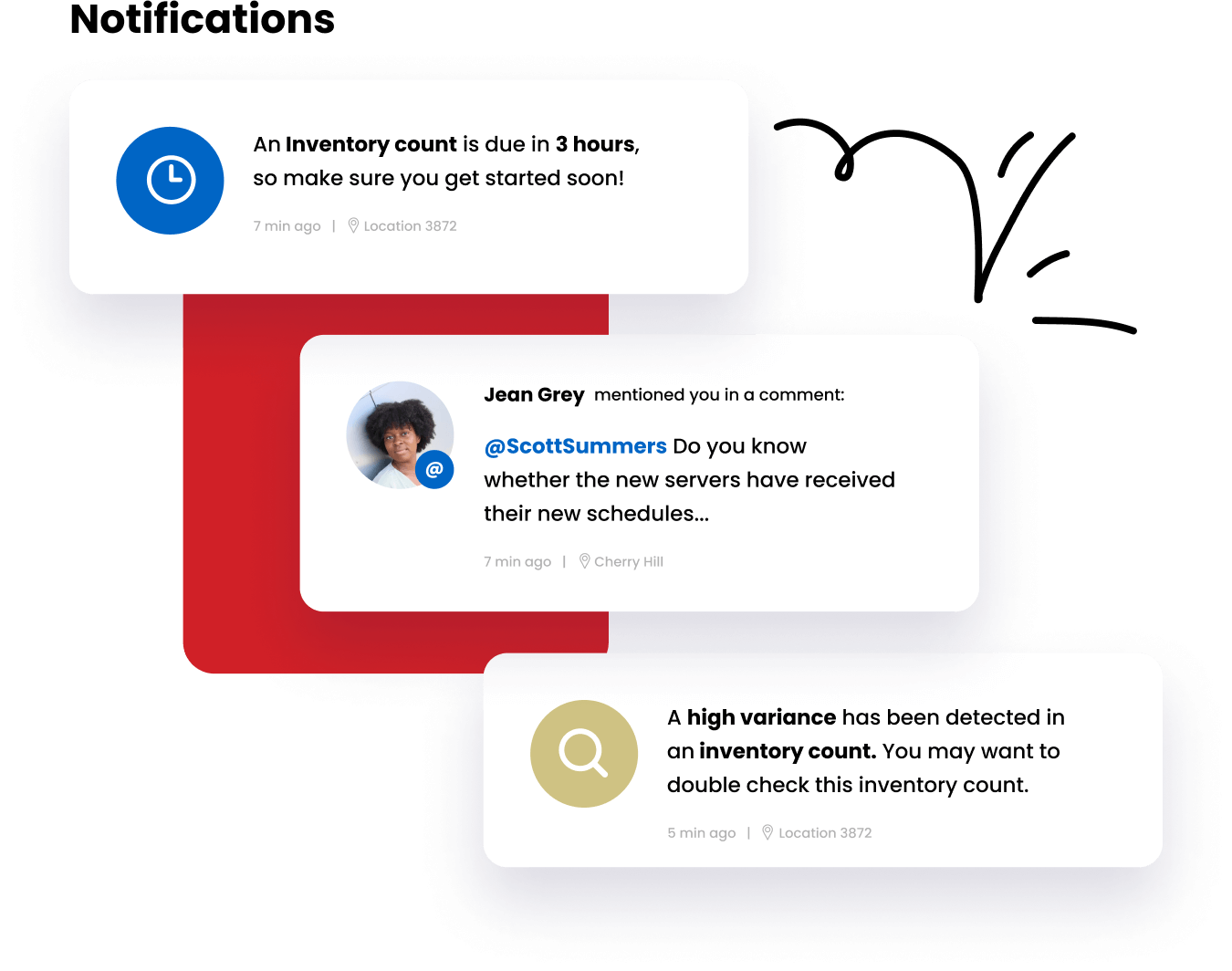 Keep your teams in sync on daily activities, customer issues, maintenance problems, and more.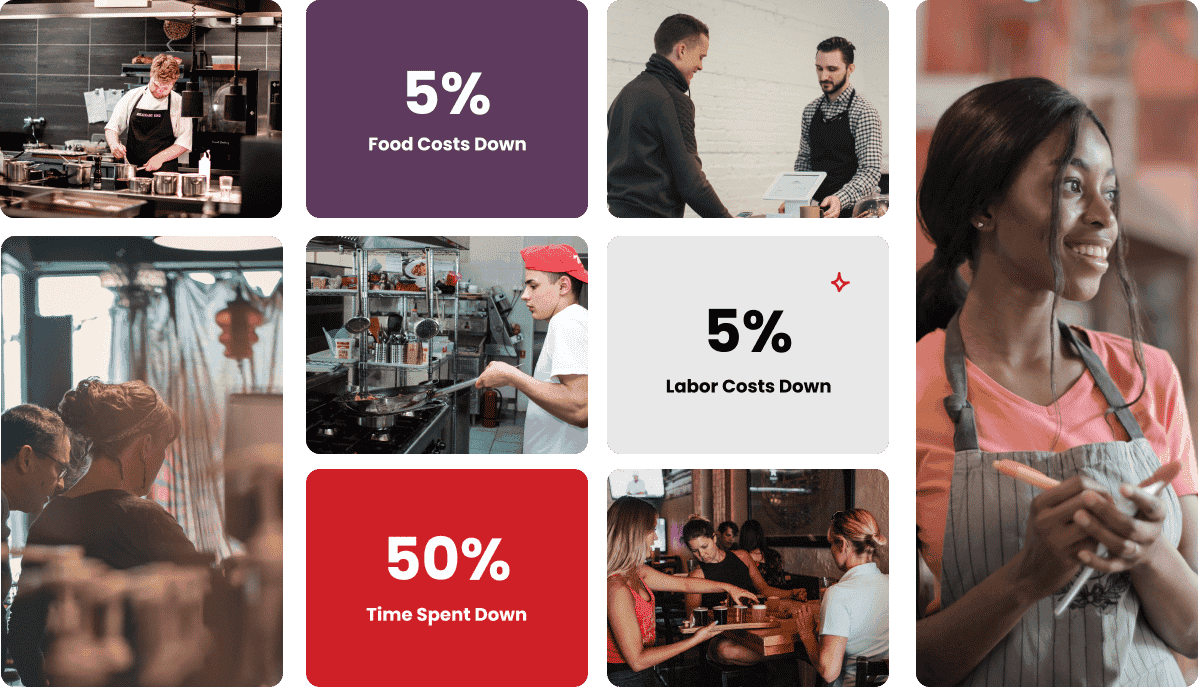 Online Restaurant Management System
A restaurant is not just a place to serve food; it's a business. Like any business, restaurants have operations that need to be managed efficiently and reliably. Daily store operations like inventory management, labor, and scheduling need to be consistently performed so that restaurants can reach peak performance. Restaurant staff members need to be hired, paid, and retained. Restaurants must perform accurate accounting processes that utilize data from several accounting tools such as POS systems, bank records, vendor receipts, and others. Finally, as with any organization that wants to improve their processes, restaurants must keep records and make reports on the status of their business operations so that they can know exactly what is working well and what needs to be improved. All of these operations can be managed with an online restaurant management system. 
A restaurant management system app or software can be the best way to organize all of your restaurant operations. These systems can come in all shapes and sizes. One of the simplest versions is a restaurant task management app. An app like this is designed for restaurants and acts as a guide for employees. Essentially, a task management app outlines the duties that a restaurant staff performs and provides a way for employees to keep track of the tasks they have completed. This is a great tool for both employees and managers to get work done consistently and ensure that all tasks at the restaurant are performed with care.  
While a task management app is useful for helping employees to understand the tasks they need to complete, the best restaurant management software will be more comprehensive. All of the business operations that restaurants must manage would benefit from a centralized platform that can organize all of these operations in one easy-to-use online software. Accounting, inventory, and labor management tasks can be completed manually, but an online software solution can enhance productivity and cut the amount of time it takes to manage these processes. For instance, rather than using manual methods to fill out daily sales data, a cloud-based, online restaurant management system can connect with your POS system and automatically create daily journal entries in your ledger. 
Restaurant365 is an online, cloud-based restaurant management system that can help restaurant managers with all areas of management. Working online in the cloud means that editing the data and accessing operations tools from Restaurant365 can be done from anywhere. Our platform can help restaurants streamline their business operations and improve productivity. Additionally, Restaurant365 offers a restaurant management system demo so that you can get an idea of how our platform works before making a commitment. In the world of online restaurant management systems, our platform is a unique, all-in-one solution for all of your accounting, store, and workforce operations. 
Restaurant Billing Software
When looking for an online restaurant management system, one of the most helpful tools that a comprehensive system will include is a billing solution. While you could use the old paper receipt method and collect the receipts at the end of the business day and manually enter the data into your ledger, that is not the most efficient way. Instead, many restaurants prefer to use billing software that can automate these processes. The best billing solutions can extract sales data from your POS system and automatically create accurate journal entries. Looking at a restaurant management system website can be the easiest way to find out whether the system you are interested in includes this capability or not. 
It is possible to find a restaurant billing software on its own rather than as part of an overall management system. Sometimes, these software options do more than just keep track of transactions at the restaurant. For example, a restaurant billing software can also be a restaurant table management software. What is table management software? Simply put, it is a system for taking orders from guests, keeping the accounts for those orders, and managing tables and menus. These software systems include POS capabilities. The downside to these systems is that if your restaurant already uses a specific POS system, utilizing a table management billing system would require you to implement a completely new POS tool. 
A billing solution eliminates the need for manual paperwork and journal entries and can save valuable time, but finding one that can work with the POS system your restaurant already uses means looking for a unique solution that can integrate with your POS tool. One way to do this is through an open-source restaurant management system. Open source software allows you to edit the code so that you can make it work for your restaurant. Nonetheless, this would still mean that time is lost in writing the code. The best billing solution is part of an online restaurant management system that can seamlessly work with your POS system and other platforms without having to write your own code. Our online, cloud-based system, Restaurant365, can make your billing processes fast, accurate, and accessible. 
Restaurant Inventory Management Software
Restaurants are unique among the various types of businesses because they must keep a very strict inventory record. If a restaurant finds that any of their ingredients are unable to be used, they must throw them out. Unlike a retail business, restaurants have to constantly change their inventory because their products are food and can decompose rapidly. This means that inventory management is of vital importance to restaurants. 
The best ERP for restaurants or any restaurant management system project will include inventory management tools. A restaurant inventory management software can be found online, but when the inventory and accounting processes can be combined in one centralized platform, that can save time and effort. A web-based restaurant management system will also have the ability to be accessed wherever there is an internet connection so that inventory records can be updated instantly. While you could find this kind of software by looking at a top 10 restaurant management software list, it is important to ensure that the software in this list has inventory management capabilities.  
A restaurant management system introduction can be a great place to look to see if the system includes inventory recording tools. Many restaurant SaaS companies have created systems for inventory management, but a cloud-based, robust software like Restaurant365 can not only store inventory records but can help you predict inventory needs, build menus based on inventory, and spot patterns so that your restaurant can succeed. Our online platform can also automate the purchasing and receiving process so that restaurant staff can focus on the most important tasks. 
Restaurant Management System Example
Before implementing a restaurant management system, it is important to educate yourself on the particulars of the system. A restaurant management system website will be the best place to learn about software you might be interested in. The restaurant management system project description should give you a general idea of the way the system works and whether or not it has certain capabilities, such as whether it is cloud-based or if it includes inventory management tools.  
Understanding the restaurant management system features can help you decide which system to use. Some platforms will include more features than others. Depending on your restaurant's needs, a restaurant management system that has seamless integration with your other platforms might be better than one that requires you to change your POS tools, for instance. The best way to learn more about these systems is to look at a restaurant management system example. Restaurant365 is an example of a restaurant management system that can be used with any POS system and works with both iOS and Android devices. Our platform is cloud-based and can be accessed wherever you have an internet connection so that you can easily update records and understand those details that make the difference between a thriving restaurant and one with closed doors. 
Restaurant Management Software
Restaurant management software choices can vary, but there are a few elements that make up the best restaurant software. One of the most important and useful capabilities that restaurant software systems should have is the ability to integrate with a cloud-based restaurant POS system. This means that the management software is also cloud-based and can automatically capture the data from the POS system without any manual writing or typing required. Finding the right POS system to pair with your restaurant management software can be as simple as looking through a restaurant POS systems list. For example, Restaurant365 has a list of partners that produce POS systems that can be utilized with our platform. 
The top restaurant software companies will all offer different tools and features in their systems. Some restaurant software companies will offer hardware choices to pair with their software. When it comes to finding the right restaurant management software or system for your restaurant, Restaurant365 might be what you need. Trusted by some of the biggest names in food service, including Buffalo Wild Wings, our platform can make your restaurant's management processes simple. With solutions for all of your accounting tasks, store operations, administrative work, financial reports, and business intelligence, Restaurant365 was designed to help restaurants grow and increase profit.
Accounting and Payroll Software | Accounts Payable Process | Best Inventory Management Software | Best Restaurant Management Software | Food Inventory Management | Inventory Management | Inventory Management Software | Inventory Tracking Software | Kitchen Operations | Kitchen Operations Checklist | Online Restaurant Management  System | Restaurant Management | Restaurant Management System | Restaurant Software Systems | Restaurant Staffing | Restaurant Staffing App | Restaurant Staffing Guide | Workforce Payroll 
Request a Demo of
R365 Store Operations
Learn how R365 Store Operations can help you master back-office operations.